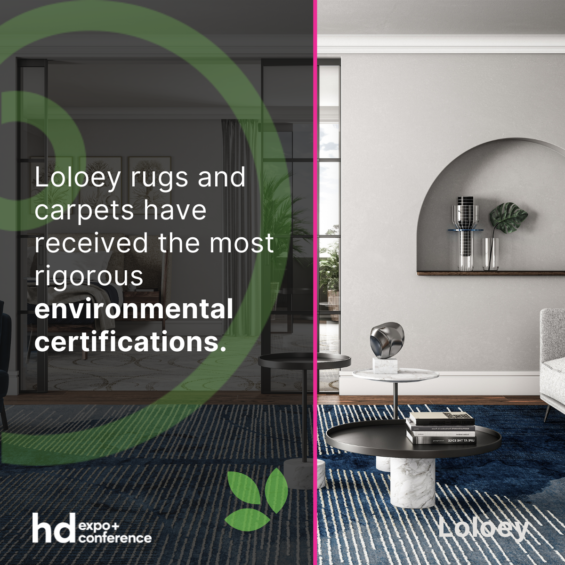 Loloey provides high-quality custom floor coverings, servicing clients worldwide.
Loloey aims to reduce the impact of the company's operations on the environment and commits to promoting sustainability and environmental awareness at all levels.
Loloey rugs and carpets have received the most rigorous environmental certifications:
Green Label Plus for Indoor Air Quality
GRS Global Recycling Standard for PET area rugs
ISO 14001 – Environmental management
Loloey makes great use of natural fibers and encourages its clients to use them whenever possible: wool for axminster carpets; wool, silk, bamboo silk, felt, linen for hand-tufted and hand-knotted rugs.
Wool is a key component (80%) of Loloey Axminster carpet. This material can stand up to the heaviest of foot traffic due to its naturally existing crimp, providing built-in resilience and structural integrity. Wool can be used to create products that are renewable, reusable, and recyclable. As a result, it can contribute to a project's certification under the Leadership in Energy and Environmental Design (LEED) program in two Materials and Resources (MR): Rapidly Renewable Materials and Low-emitting Materials.
Loloey also offers a range of recycled fibres: wool (suitable for contract and hospitality projects), PET yarns obtained from plastic bottles (which can be used outdoor), nylon fibres from fisherman nets, as well as recycled viscose.