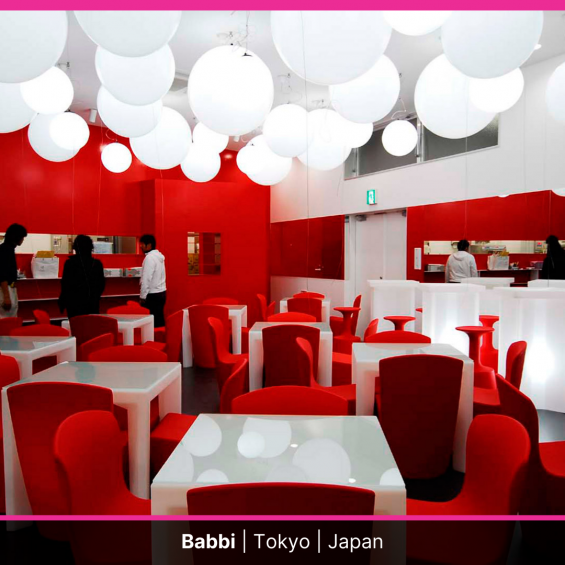 SLIDE furnished the Babbi ice cream and coffee shop in downtown Tokyo with:
GINO tables (design Giò Colonna Romano): strong, resistant and with a square shape, Gino is the perfect table for outdoor lunch and dinner together. Its linear design and its small size adapt in every kind of settings, both in private houses or contract. Gino is a functional table but it doesn't give up a touch of class, thanks to the matt glass top applied to the polyethylene structure.
ZOE chairs (design Guglielmo Berchicci): a contemporary and sophisticated chair, with a rounded silhouette and minimalist design. Its cozy shape makes it a great aesthetical presence but also it has got a comfortable sitting. Its slightly curved shape gently wraps the body, giving a feeling of extreme relaxation. Zoe is also particularly functional: it is easy to move, but also it is resistant, because of polyethylene. Zoe is suitable both in indoors or outdoors, both for private use and for creating suggestive contract settings and elegant events, both in its lacquered and luminous version.
X2 high tables: a luminous table designed primarily for contract world, ideal to indoor and outdoor settings. Its X-shaped base makes the table particularly functional, giving it stability and strength, but we don't forget a touch of refined brightness. The square top gives a linear and minimalist design to the high table, and for this reason X2 is ideal to every type of furnishing.
DRINK stools (design Jorge Najera): a design item with a double personality: it is a bar high stool but also an ice bucket, it depends on how it is reversed. Designed by Jorge Najera, Drink reminds a glass shape, and it is ideal to furnish terraces, gardens, living in private houses, contract and events settings, in an unusual and funny way.
GLOBE hanging lamps: one of the bestseller family of the whole Slide production. Its simple spherical shape could create sophisticated and unusual settings, especially if you mix the different dimensions of Globo Hanging lamps together. Globo Hanging is ideal to revitalize every kind of settings with elegance and contemporary.
Discover the whole range of SLIDE products at the upcoming HD Expo Las Vegas, August 24-25, 2021.