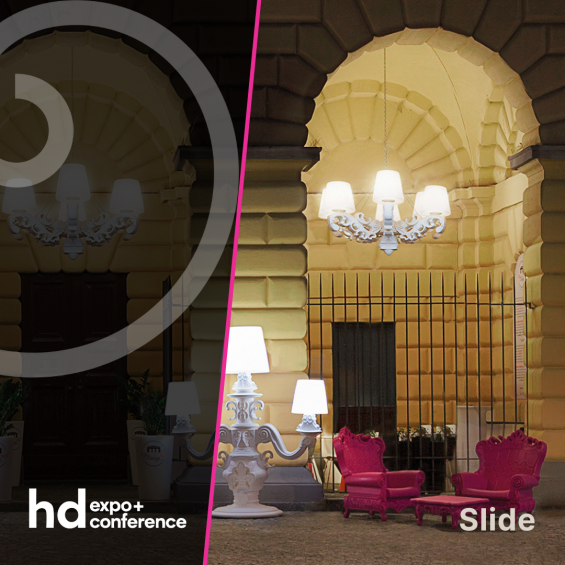 Founded in 2002, SLIDE produces furniture, accessories and lighting suitable for both outdoor and indoor use. The founder Giò Colonna Romano, engineer and entrepreneur, matches perfectly his imagination and creativity with a thirty-year know-how in the processing of plastic materials.
Thanks to the continuous evolution in ideas and research, the present and the future of SLIDE is full of novelties. SLIDE presents new materials, thanks to the introduction of soft polyurethane and new textures, and new shapes, whose lines come from the collaboration with internationally renowned designers. The world's first major success has been the production of luminous furniture, of which it still maintains its leadership, and then extends 360° throughout the furniture world, developing different products and sectors. Between artisanship and industry, SLIDE finds its first home in Buccinasco, where the offices and production are still located, but its roots reach the heart of Milan, thanks to the new showroom in Foro Buonaparte. The name SLIDE is today known all over the world and the products, a fervent expression of the real Made in Italy, reach more than 130 countries.
Queen of Love is the unique armchair created by the designer Graziano Moro and Renato Pigatti. The iconic Queen of Love armchair is the first and the most loved product of the whole Design of Love collection: as a throne, Queen of Love crowns everyone who sitting on it. Queen of Love is full in details, as typical baroque style, but it is contemporary, pop and ironic thanks to the material in which it is made, polyethylene. Queen of Love is elegant, attractive, pop and unforgettable, for this reason it is often the protagonist of tv shows and international events.
Discover the whole range of SLIDE products at the upcoming HD Expo Las Vegas, August 24-25, 2021.