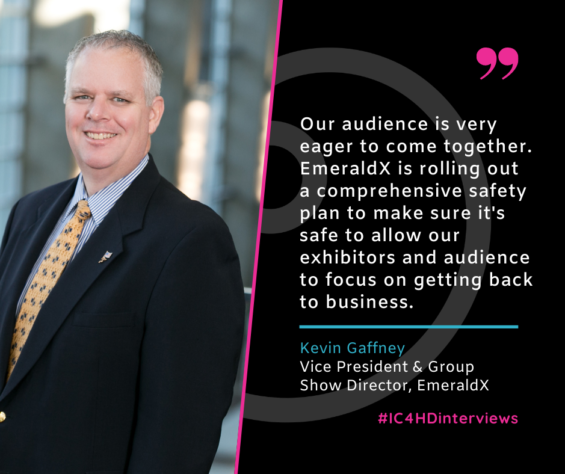 Kevin Gaffney, Vice President and Group Show Director at EmeraldX, has a quite optimistic vision towards the Hospitality Design Expo+Conference to be held on August 24 and 25, 2021 at Mandalaty Bay, Las Vegas (NV). He has released an exclusive interview to IC4HD talking about his pulse on the industry.
What is your pulse on the hospitality design industry at the moment?
With the vaccine now rolling out there is a keen sense of optimism that we have not seen as strongly before now. It gives us great hope for staging a great HD Expo event in August.
In presence vs virtual events: what are your feelings about the opportunities of these different ways?
Our virtual focus has been on educational content delivery which has been well received, however our audience is eager to return to live opportunities. A virtual tradeshows is not something we would focus on for HD Expo and are planning for a return to a live tradeshow in August.
Are companies and architectural firms inclined to come back and meet to live expos and conferences for 2021?
Yes, our audience is very eager to come together. Each company will have to determine internally what works for them however we will have extensive health & safety protocols in place to ensure our attendees comfort and safety. EmeraldX is rolling out a comprehensive safety plan for each show and we will work in concert with Las Vegas and Mandalay Bay Convention Center to make sure it's safe to allow our exhibitors and audience to focus on getting back to business.
Is there any common point between hospitality and healthcare industry new trends?
There is definitely a crossover between hospitality and healthcare. Hotels have had to implement new levels of cleaning and air filtration that they never had before, and as a result, many hotels looked to healthcare protocols for inspiration (and Hilton even partnered with the Mayo Clinic). Many healthcare facilities are looking to hospitality designers to make hospitals more hospitable, in terms of lounges, restaurants, public spaces. And at the same time, many new wellness clubs and concepts are popping up across the country, which bridge the gap between preventive medicine and spas.
Italian Contract 4 Hospitality Design coordinates the participation of Italian companies and institutions to international events for hospitality and contract design. Discover where to meet us and read the series of IC4HD interviews