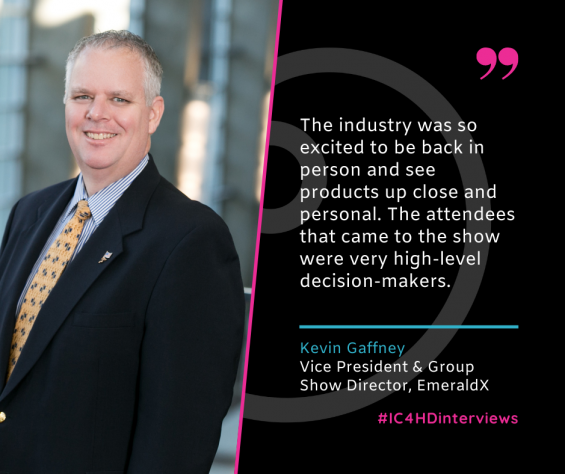 IC4HD interviews Kevin Gaffney, Vice President and Group Show Director at Emerald, who shares his thoughts and impressions about the 2021 edition of Hospitality Design Expo 2021.
HD Expo + Conference is the largest hospitality event of its kind in the country, showcasing the latest products, services, and innovative developments from the industry's leading manufacturers.
How is your impression about the industry you've met at HD Expo?
The industry was so excited to be back in person and see products up close and personal. The attendees that came to the show were very high-level decision-makers who were very keen on seeing new products and reconnecting with colleagues.
What are the main innovations this COVID pandemic has brought to the industry?
Honesty and transparency are needed in business, with product delays a current issue, expectations need to be set upfront at initial product request stage because there are many things out of manufacturing control. There is also a need for potential new products to accommodate Covid related model adjustments.
Can you already give us some anticipations about HD Expo 22? Any special feature to be introduced?
We will be back to three halls and look forward to having more companies back in the show with us in April. We will continue the features we added to HD 2021. We will also be launching a new matchmaking program that exhibitors can opt-in for a small sponsorship fee. Each sponsor will be guaranteed a number of face to face meetings with high-level decision-makers.
Can you tell us something about EFA and HCD Expo?
While both EFA and HCD were smaller in 2021 due to Covid, both events were well attended and the feedback from exhibitors has been overwhelmingly positive. EFA 2022 will take place April 2-5 at the Wisconsin Center in Milwaukee, Wisconsin; HCD 2022 will take place October 8-11 in San Antonio, Texas
Italian Contract 4 Hospitality Design coordinates the participation of Italian companies and institutions to international events for hospitality and contract design like HD Expo, EFA Expo + Conference and Healthcare Design Expo. Contact us at contract@lanariassociates.com to find out more about our services and read the series of IC4HD interviews.