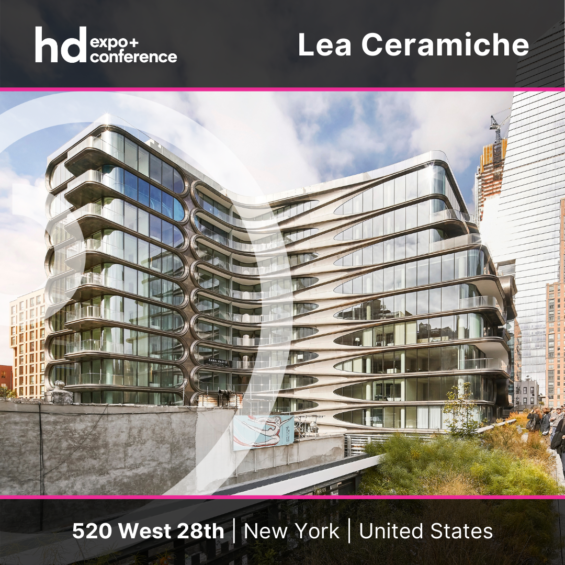 Material and technical qualities coupled with the aesthetic values of Lea Ceramiche's materials enter the 520 West 28th architectural complex, Zaha Hadid Architects' first residential project in New York.
Located between the High Line and 28th Street, the architecturally striking building was designed to dialogue with the lively surrounding urban environment, the Chelsea neighborhood in Manhattan. The eleven floors, which encompass a total of 39 apartments, each with its own identity and different viewpoints of the neighborhood, feature a series of volumes that flow into each other, intertwining. The outer envelope, characterized by large glass windows and curved steel lines, is a clear hallmark of the style of the great architect, who won the Pritzker Prize and died prematurely in 2016. The innovative and modern design also distinguishes the building's interiors, not only the futuristic, over 3 meter-high apartments designed by Jennifer Post Design and West Chin Architects, but also the 25-meter covered swimming pool, the IMAX cinema, the gym, the underground garage with a robotic system, and meticulously designed spaces that have made the futuristic building the new icon of the New York skyline.
METROPOLIS by Lea Ceramiche is the collection selected for the building's Back of House areas. Presented in the Tokyo White color, it creates surfaces with a neutral and bright color; the series' essential and contemporary style adapts very harmoniously to the setting, making the spaces airy and welcoming. Metropolis is also characterized by the special Protect antibacterial protection integrated in the material, which guarantees healthy, safe and protected environments, offering a perfect mix of aesthetic pleasure, quality, comfort, functionality and durability.
Credits
Project: 520 West 28th
Location: New York, United States
Project by: Zaha Hadid Architects
Year of completion: 2018
Lea Ceramiche products: Metropolis collection
Design Research dept. Lea
UGL through-body stoneware
Tokyo White colour
Formats: 30x60cm; 60x60cm
Thickness: 10mm
With Protect antibacterial protection www.protect.panariagroup.it
Discover the whole range of Lea Ceramiche products at the upcoming HD Expo Las Vegas, August 24-25, 2021.