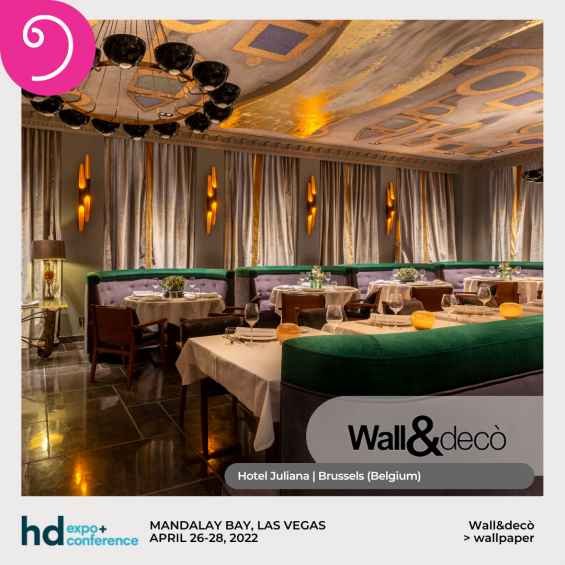 Hotel Juliana – located in the heart of Brussels – is a treasure chest that combines styles, works of art and furnishing elements, to give life to a rare and refined project.
The brasserie area opens with the unconventional yet striking application of wallpaper to the ceiling: the golden lines of the details of the 'Osiride' wallpaper, here in the Bronzage support, with a metallic effect that accentuates the golden tones, gives a warm and precious atmosphere in harmony with the precious curtains.
The corridors that run through the lounge area are a tribute to art: the arches of the 'Chronos' wallpaper welcome antique furniture and works of art in a unique design.
The large staircase leading to the rooms offers a clear dialogue between different surfaces: the 'Sangallo' wallpaper is designed to reflect the color tones of the mosaic next door, in a game of amber nuances.
Finally, each room is characterized by a very precise style: 'Desus' wallpaper imposes itself on the Signature suite for the entire height of the walls-dominating the view of the city center, while 'Antiqua' – with its geometric features and capitals – amalgamates with the clean lines of the architecture and ceilings.
A project that stands out for the accentuated level of customization of refined spaces rich in details.
Project by Eugenio Manzoni
SMC Gallery Paris
Photo © Linboogaard.nl
Photo © Martino Dini
Discover all the wallpaper patterns by Wall&decò at the upcoming HD Expo Las Vegas, April 26-28, 2022.