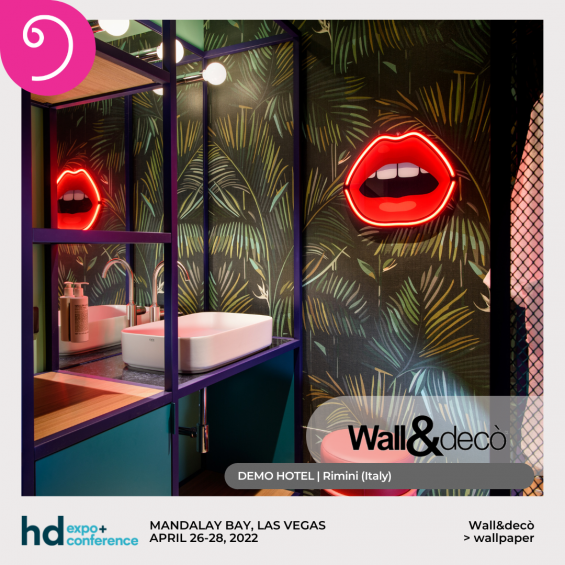 DEMO HOTEL in Rimini aims at awakening the sense of wonder for a permanent showroom set in a hotel.
Starting from the recovery of a boarding house in disuse, the project involves fourteen architectural firms called to rethink the spaces – each with its own identity – of a real hub of hospitality experimentation.
The external facade is a strong reference to DEMO Design Emotion: OUT System, with graphics created entirely ad hoc and designed by Caberlon-Caroppi studio proposes a concept of renewal 'at first sight' and emotional.
The fil rouge that runs through the entire project is the color, and the reference to pop tones is strong in the lounge area, designed by Caberlon Caroppi studio, with the wallpaper Nico.
Tropicana suite – designed by Rizoma studio – evokes pop atmospheres with industrial inspirations: in the living area, Jungle of signs welcomes the guest with its iconic and bright colors. The sleeping area, thanks to the palm trees of Brasilia, evokes tropical latitudes with references to pop culture in the application of the chosen finishings.
Project Management by Hospitality Project – Filippo Covili Faggioli, Marco Pignocchi
Projects by Caberlon-Caroppi Studio & Rizoma Studio
Photo © Francesca Pagliai
Photo © Flavio Ricci
Discover all the wallpaper patterns by Wall&decò at the upcoming HD Expo Las Vegas, April 26-28, 2022.