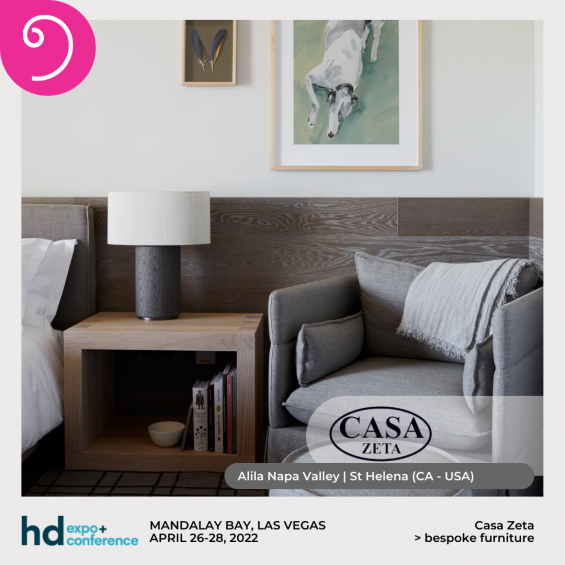 Alila Napa Valley (Former Las Alcobas Napa Valley) is by far Casa Zeta's best "expression" for quality and level of finishes achieved in its 68 suites and common areas. Other than manufacturing casegoods, upholstered pieces, doors, vanities, Casa Zeta also developed all wooden floors, ceilings, wainscots, wall paneling, faux beams, curtains… down to the very last detail.
In details, Casa Zeta manufactured:
All items in the guestrooms and suites (bed platform, nightstands, desk, minibar unit, sliding doors, entry doors, upholstered pieces, terrace furniture, custom wood floors, curtains, vanity, closets)
Ball room European oak wallpaneling with hidden doors
Acacia House Restaurant (wooden ceilings, wooden floors, millworks, kitchen decorative pass-through window, restaurant tables and booths)
Alila Spa (Wooden ceilings and faux beams, wooden wainscoat, millworks)
Swimming pool area custom furniture and bar millwork
Discover the best of Casa Zeta custom made furniture at the upcoming HD Expo Las Vegas, April 26-28, 2022.