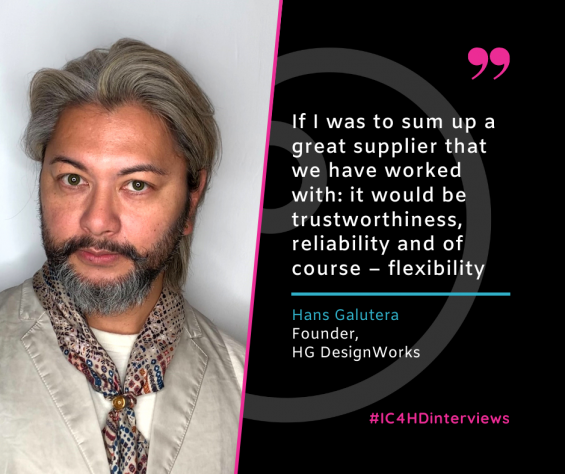 Hans J. Galutera, the founder of HG DesignWorks, is a renowned expert in the art of interiors, and in the last 20 years he has been an important party for the creation of luxurious spaces in the world of hospitality. 
Through an exclusive interview, he shares with us his projects and a new point of view on the US hospitality sector.
What is your pulse on the hospitality design industry at the moment?
At the moment people are travelling a little bit less, but they're travelling over extended periods of time. I think the average hotel room definitely will evolve. They want a place where they can feel safety, sanitary other than just sleeping or where they can eat. We are finding that they also want a place to prepare their own meal, to order a delivery and not have to eat it on their bed. Guests want to be able to sit and work on a laptop – and then have it all for short and long term stays.
Can you identify any particular trend and/or feature that has become increasingly important in hospitality projects building/renovation due to Covid emergency? And for the post-Covid restart?
Typically one would say the lobby is a key factor with hotel design but I think the guest room has become tantamount due to Covid. The hotel room has become a sanctuary focused on contemplation and self-care since you could not use the lobby during Covid. The desire for quiet has become increasingly significant and I think hotel brands should address what is really important within a room and strip back any unnecessary items. We are also thinking for our clients – how would you use the room if this pandemic happens again? We are given instances like what happened during this crisis where some hotels were turned into birthing centers, senior living facilities, triage, homeless shelters… what other ways can this room be used in functionality?
Which kind of projects are you working on most at the moment? Mostly renovations or new buildings?
Mostly renovations, at this moment, right now in New York City, New Jersey and Melbourne, VIC Australia.
What are the main features you search for in a supplier? How would you sum up the profile of your ideal supplier in 3 words?
When we were working with the big corporations such as Royal Caribbean and Celebrity Cruises which are, I guess, floating hotels, we would develop relationships with different suppliers that have been pre-approved because of strict maritime codes and life safety guidelines. With new suppliers, we always want to make sure that there is accountability for quality issues. We need to make sure their production capabilities are excellent and most importantly the ease of communication is established. And if I was to sum up a great supplier that we have worked with: it would be trustworthiness, reliability and of course – flexibility (i.e. they must be ready to fix their mistakes effortlessly) which is the key word right in our current environment for all constructed environments.
Italian Contract 4 Hospitality Design selects the best Italian firms able to face the US market for hospitality design, distinguished for a structured organization on site, real-time answer to requests coming from designers and specifiers, flawless executions within the agreed timing and mode. The best occasion where to meet IC4HD companies is at Hospitality Design Expo+Conference Las Vegas.