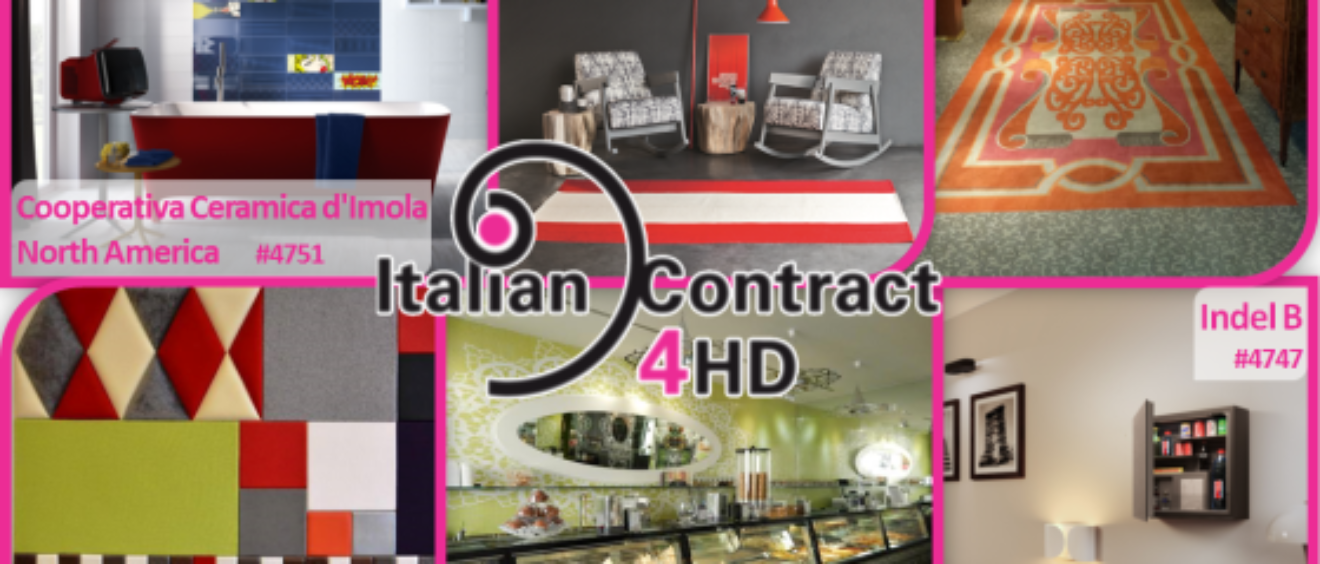 PRESS RELEASE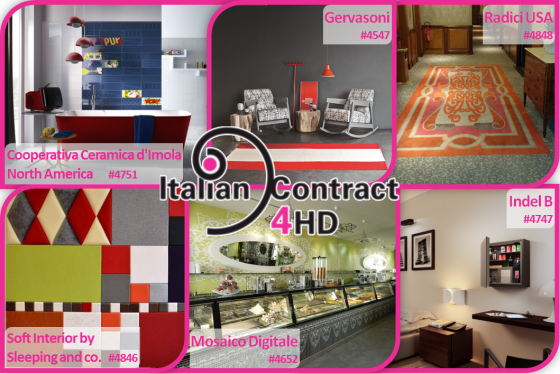 … -10 … -9 … -8 … the countdown has finally started!
For the fifth time a selection of the best Italian companies in the hospitality sector will exhibit under the umbrella name of ItalianContract4HospitalityDesign (ic4hd) at HD Expo – the most important trade show for the segment on the US market – opening on May 13th.
This time, again, the exhibitors will present a vast selection of product categories, ranging from Gervasoni and Very Wood (#4547) sophisticated outdoor upholstery and chairs, armchairs, small sofas and bar stools for restaurants and public areas, to Indel B (#4747) incredibly thin minibars and innovative safes and Radici USA (#4848) carpets with a soul, up to Cooperativa Ceramica d'Imola North America (#4751) high end ceramic tiles, Soft Interior by Sleeping and co (#4852) hook-and-loop tiles and panels in leather and fabric and Mosaico Digitale (#4652) with its original mosaics.
Each company shows some news, every product embodies the best of Made in Italy for high quality and design. Here it's a brief preview of what you will find at the show. Brick 307 by Gervasoni is a rocking chair, with a  frame in American walnut and the upholstered seat and back in polyurethane foam. Indel B will show off Flyingbar, the least deep minibar on the market (8 inches only!). Radici USA will display a wide range of its carpets, among which the stylish Abetone Club, a Wilton Woven, 6 mm cut and loop pile carpet available in 25 beautiful colors. Last but not least, among the confirmations, the 2014 ADEX Awarded hook-and-loop tiles and panels of Soft Interior by Sleeping and co: thanks to the wide choice of materials and colors and to the extremely easy laying system, this product grants the highest possibilities of customization of each surface, both straight and curved. For what concerns 2015 new entries, Cooperativa Ceramica d'Imola North America will present the wall tile Pop by Imola Ceramica illustrating 10 different Pop Art images while Mosaico Digitale will show off its revolutionary solution for decorating interior and exterior surfaces converting digital images into wonderful resin mosaics.
ic4hd companies can be followed also on the social networks Facebook, Twitter and LinkedIn!
Are you ready? We're waiting for you at HD Expo, from May 13th to 15th at Las Vegas Mandalay Bay!
Click here to download the press release ic4hd@HDexpo2015 ENG