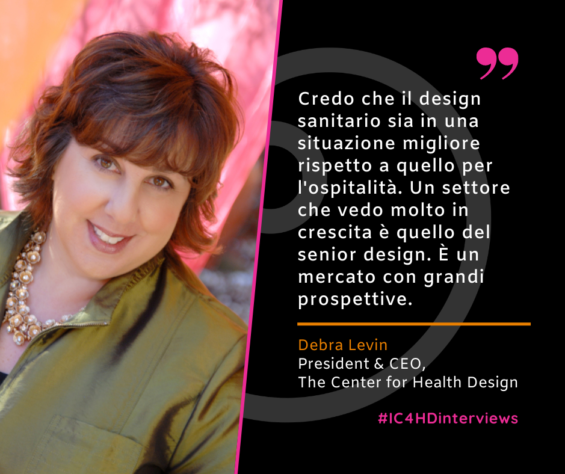 Grazie ai consolidati rapporti con il mondo dell'Healthcare Design, abbiamo avuto l'opportunità di intervistare Debra Levin, President & CEO di The Center for Health Design. Nato nel 1993 con l'obiettivo di creare strutture sanitarie che promuovono ambienti più sani per i pazienti e il personale, il Centro ha negli anni maturato una comprovata esperienza nella creazione, lancio e fornitura di programmi che forniscono un vero valore all'industria del design per il settore sanitario: certificazione EDAC (Evidence-Based Design Accreditation and Certification), Affiliate Program, il programma scientifico di Healthcare Design Expo + Conference, insieme alla più ampia raccolta di ricerche, best practice, risorse e strumenti per la progettazione sanitaria più urgenti e impegnativi di oggi. La community del Centre for Health Design raccoglie architetti, interior designer, dirigenti sanitari, professionisti sanitari, ricercatori, produttori di prodotti, educatori e studenti, tutti impegnati cambiare in meglio il design sanitario.
Qual è il suo punto di vista sull'healthcare design al momento?
L'industria sta cercando di capire quali sono gli interventi migliori per fronteggiare la pandemia. Alcuni progetti sono stati messi in pausa, ma vedo che nelle ultime settimane si sta muovendo qualcosa. Sono ottimista anche se consapevole della difficoltà della situazione.
Healthcare design e hospitality design… come vede questi due comparti?
Credo che il design sanitario sia in una situazione migliore rispetto a quello per l'ospitalità. Per un paio di anni prevedo ancora riduzioni a livello di viaggi, soprattutto per lavoro. E se è possibile scegliere se e quando viaggiare, non è possibile invece decidere se è necessario andare in ospedale, purtroppo.
Un settore che vedo molto in crescita è quello del senior design. Quando abbiamo creato la manifestazione Environments for Aging Expo+Conference avevo proposto il nome "Environments for Healthy Aging". I baby boomers stanno entrando in fasce d'età più avanzate e sono abituati a vivere in ambienti piacevoli, cosa che vorranno continuare a fare anche più avanti negli anni. È un mercato con grandi prospettive di crescita.
Intravede un trend che sta diventando particolarmente importante nei progetti healthcare a seguito dell'emergenza Covid?
Nessun trend che non fosse già in discussione prima della pandemia. Sicurezza e controllo delle infezioni, telemedicina, solo per citarne alcune, sono tematiche di cui si parlava già da tempo, ma che certamente il Covid ha accelerato.
Al di fuori dell'emergenza che stiamo vivendo, invece, stanno trovando sempre più rilevanza la salute mentale e comportamentale e, come già detto, il tema dell'healthy aging.
Quali sono le caratteristiche che un fornitore dovrebbe avere per lavorare nel settore healthcare design?
Potrei distinguere due livelli. Il primo, quello basilare, comprende onestà, apertura e la volontà di costruire relazioni stabili con gli stakeholder principali. Il secondo, invece, consiste nel proporre un'offerta unica in termini di linea prodotto e comunicazione, qualcosa che nessun altro è in grado di fornire. Da questo punto di vista, con l'attenzione al dettaglio e all'estetica tipica del Made in Italy, le aziende italiane partono avvantaggiate! E sviluppare prodotti che si allineino alle ricerche: l'evidence based design è una delle chiavi del successo. Certamente poi aiuta molto avere un punto di riferimento negli USA, in quanto rende la comunicazione più agile. Nonché l'aver già specificato qualche prodotto in qualche progetto, permette di superare alcune resistenze.
Italian Contract 4 Hospitality Design, oltre a organizzare la partecipazione a HealthCare Design Expo+Conference (Cleveland, OH, 23-26 ottobre 2021), mette in contatto le aziende italiane con i professionisti del settore contract healthcare USA. Per leggere le altre interviste, seguite IC4HD interviews