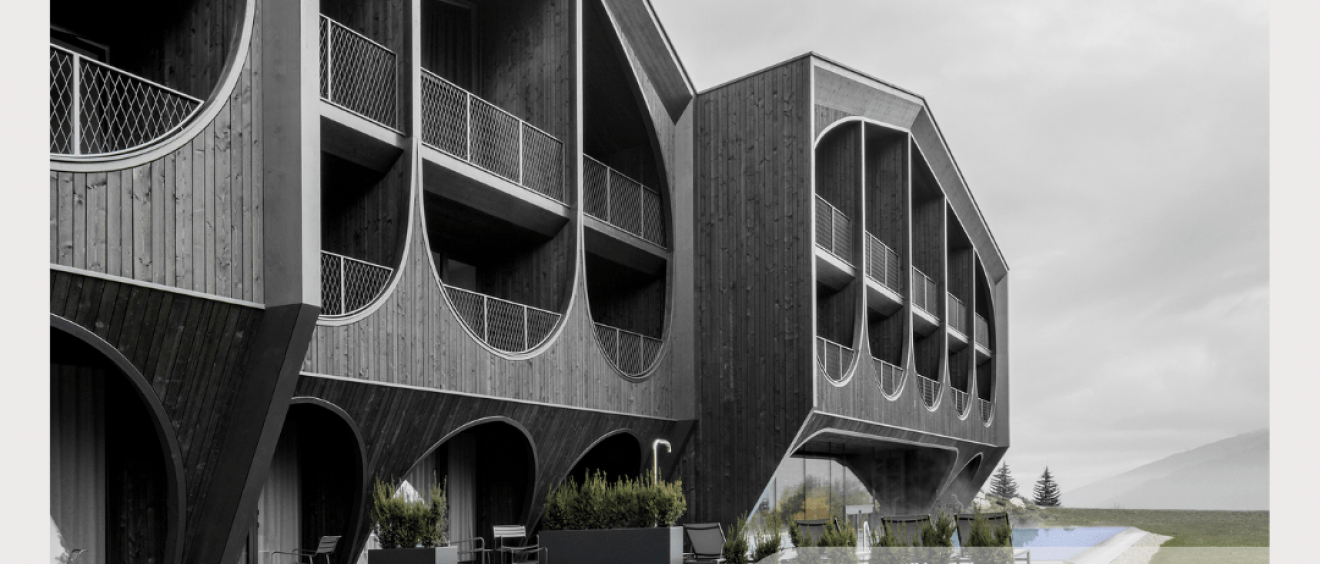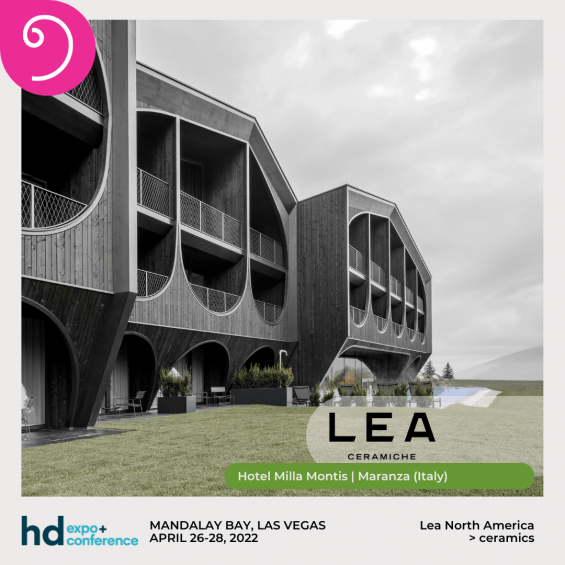 Between nature and artifice: Lea Ceramiche's high-performance surfaces for Hotel Milla Montis
Located in a small alpine village in South Tyrol, Milla Montis is a new hotel designed to blend in with the surrounding landscape and to constantly dialogue with the natural environment.
Conceived by Peter Pichler Architecture, the hotel is a tangible example of sustainable construction enhanced by a refined and contemporary design. The modern building features four staggered volumes characterised by black larch cladding and large curved cuts on the façades that create a close relationship between inside and outside, between artifice and nature.
In line with the project's ecological concept, eco-friendly materials are used in all the spaces. For example, Lea Ceramiche's Waterfall collection was chosen for the wall tiles, a ceramic product that realistically reinterprets slate, a natural stone. Made using only natural raw materials, with recycling of non-ceramic waste and scrap, thanks to heavy investment in the latest production technologies, it is a 100% eco-friendly material. In the Dark Flow colour, Waterfall covers the surfaces of bathrooms and spa areas, adding a natural and elegant touch; resistant and easy to clean, it is also distinguished by its Protect® antibacterial protection, which guarantees maximum hygiene of the spaces. In the 20 mm-thick version, which is stronger and more resistant, it covers the external areas, perfectly integrating with the formal language of the interior in line with the structure's essential and minimalist style.
Credits:
Hotel Milla Montis
Year of construction: 2020
Project: Studio Peter Pichler Architecture
Lea Ceramiche products used:
Waterfall, Dark Flow colour
UGL through-body porcelain stoneware
Thicknesses: 9.5 mm and 20 mm
Formats: 30×60 cm and 60×60 cm
Discover the whole range of Lea Ceramiche products at the upcoming HD Expo Las Vegas, April 26-28, 2022.