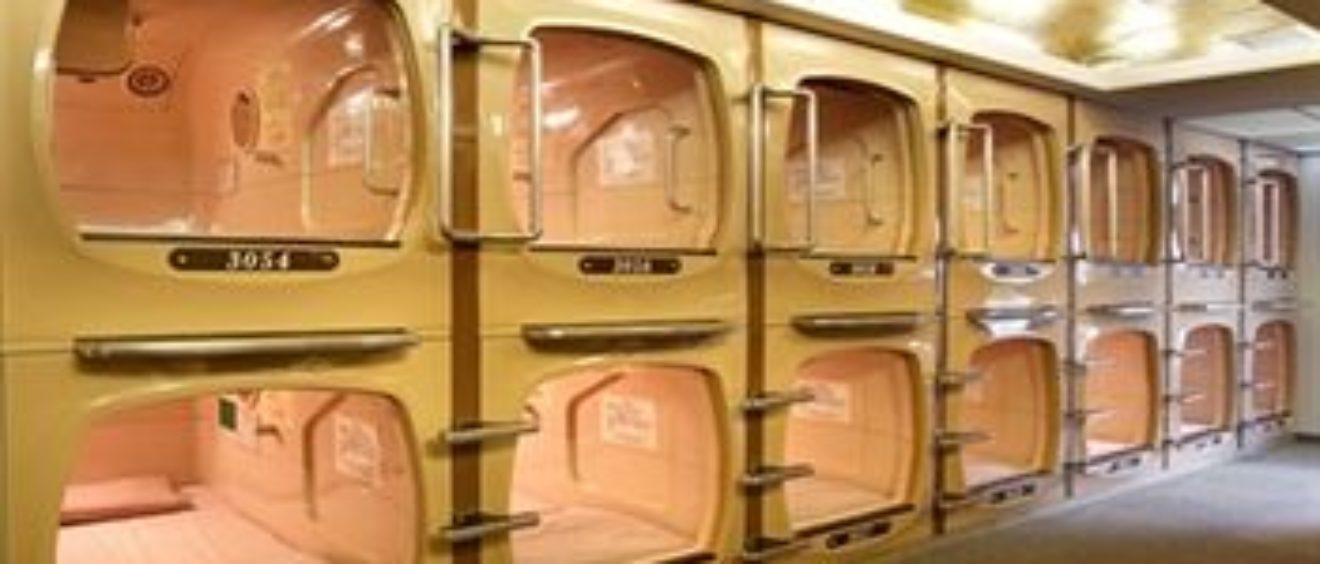 When hospitality meets businessmen the result is the growth of capsule hotels.
The so-called capsule hotels are the new trend as regards hospitality for businessmen and travelers with little time and demands. The concept is quite simple: minimal solutions whose  strengths are accessibility, cost-effectiveness, and the ability to satisfy basic needs such as a good sleep or a relaxing bath. Moreover, capsule hotels are usually built in strategic locations, such as airports or train stations. On the contrary, less importance is given to services, personalization and personal spaces: the traditional hotel room turns to a small prefab – usually a couple of meters wide – with modern, compact and functional design and furnishing.
The very first capsule hotel – the Osaka Capsule Inn – was designed by the Japanese architect Kisho Kurokawa in 1979. Since the 1980s, this trend spread in the whole Asia and more recently it started to be a big success in Europe too. The first hotel chain offering capsule hotels in Europe has been Yotel, whose facilities – small in the dimension but luxury and appealing in the furnishing – can be found in London Gatwick, London Heathrow and Amsterdam Schiphol airports. If – for whatever reason – you're stuck at the airport for awhile you don't have to wait on uncomfortable and overcrowded chairs anymore: you can book a cabin just for a few hours and have your own bed just a few meters away from the check-in desk.
When it comes to fashion and trends, Italy – of course – doesn't want to be left behind. And that's why
capsule hotels have recently landed in Italy too with zzzleepandgo: low-cost cabins with soundproof walls offering – in just few square meters – a single-bed, unlimited and fast wi-fi, an extractable work desk and even an alarm clock in sync with your flight departure time. All you need if you've an early morning flight or an unexpected layover and – on top of that – you've got a conference call or you need to check your e-mails.
Of course there are people who stand out from the crowd and don't want to give up to all the comforts and facilities offered by a traditional hotel room. These more demanding travelers choose instead the so-called compact hotels: cheaper than traditional solutions but more comfortable than capsule hotels, this type of accommodation offers almost all the quick services that a businessman may need in a business trip – when the time is short and the tasks are too many: fast check-in, fast wi-fi, express laundry and every other express service you can think about – besides, obviously, a comfortable bed and all the other necessities (source: business traveller, march 2016).
The hospitality world is always seeking new and innovative solutions that could help the business in making a difference and emerging in such a competitive scenario. The emerging trend of capsule hotels and compact hotels certainly offer new opportunities for professionals operating in the contract and hospitality industry.
Are you a contract professional wishing to learn more about the main tradeshows and events for your industry? Are you an architect or designer looking for an Italian qualified partner for your next projects? Are you interested in discovering the newest hospitality trends?  Feel free to reach out to us e-mailing communication@ic4hd.com and follow us!