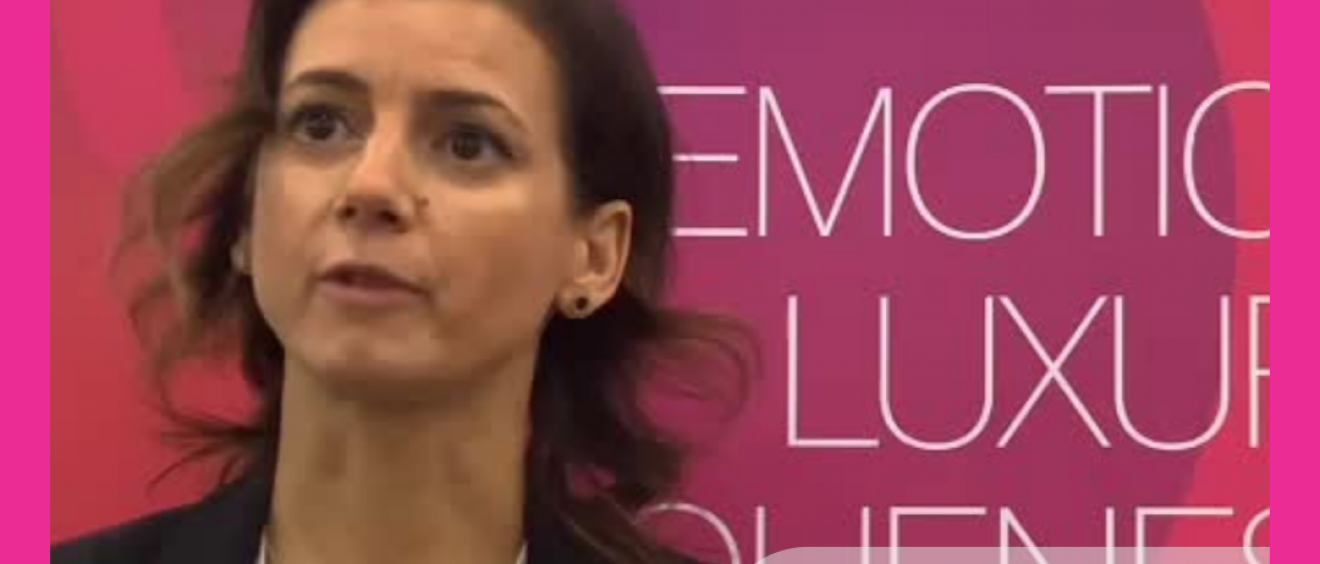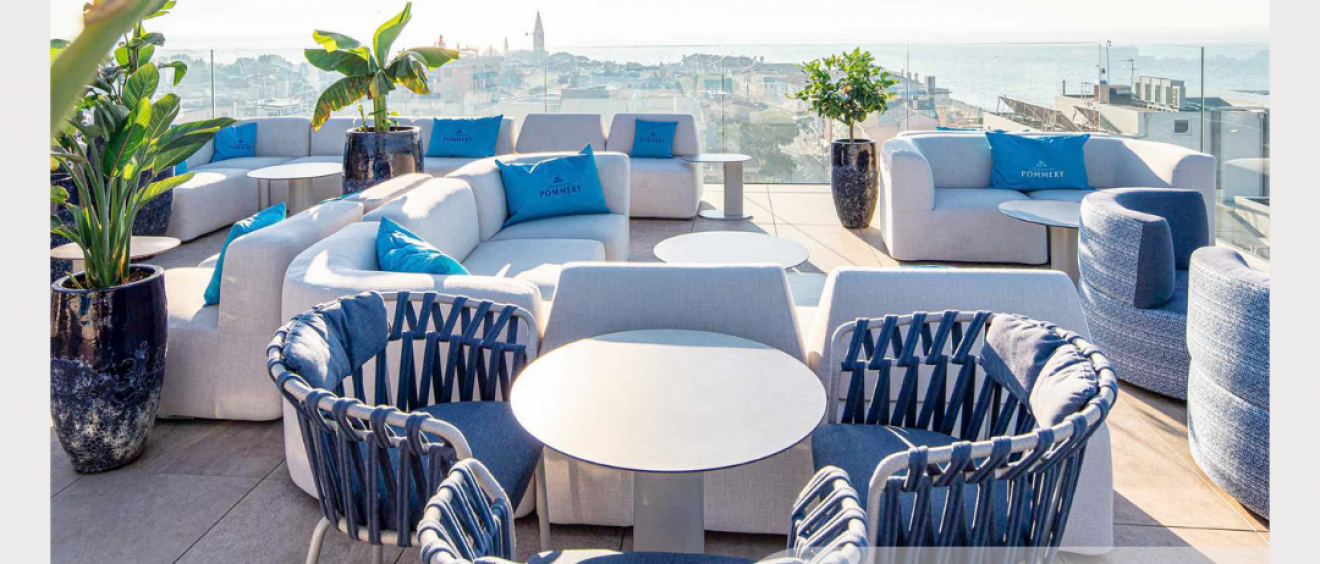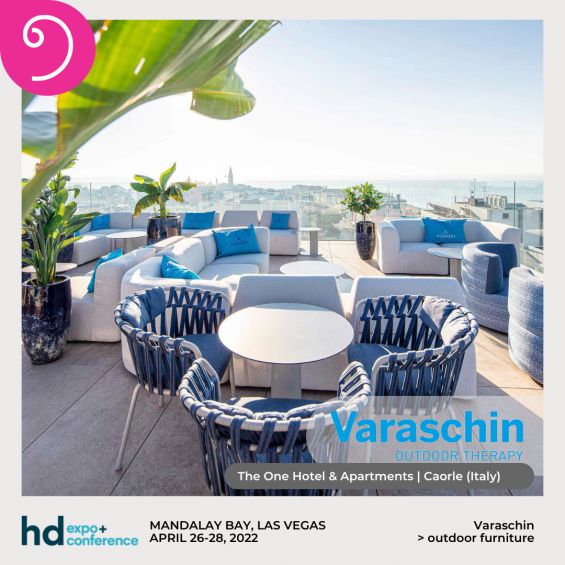 The elegant and refined rooftop of The One Caorle Hotel & Suite Family Apartments,  the brand new luxury concept with a modern design, located in the heart of the homonymous city and seaside resort, is signed by Varaschin.
A real living room in the sky, equipped with an infinity pool, where guests can enjoy a suggestive 360° view.
Beds, armchairs, stools, modular sofas: the proposals are many, all shared by colors matching with the surrounding spaces.
The Emma Cross armchairs in denim color with a relaxing design match perfectly with the beige of the daybeds of the Emma collection, embellished with a hand-woven fiber backrest.
To complete the terrace you can find the Belt daybeds with their curved lines, rounded profiles and light tones make the environment versatile and elegant and the Plinto coffee tables the perfect support for any object.
Discover the whole range of Varaschin products at the upcoming HD Expo Las Vegas, April 26-28, 2022.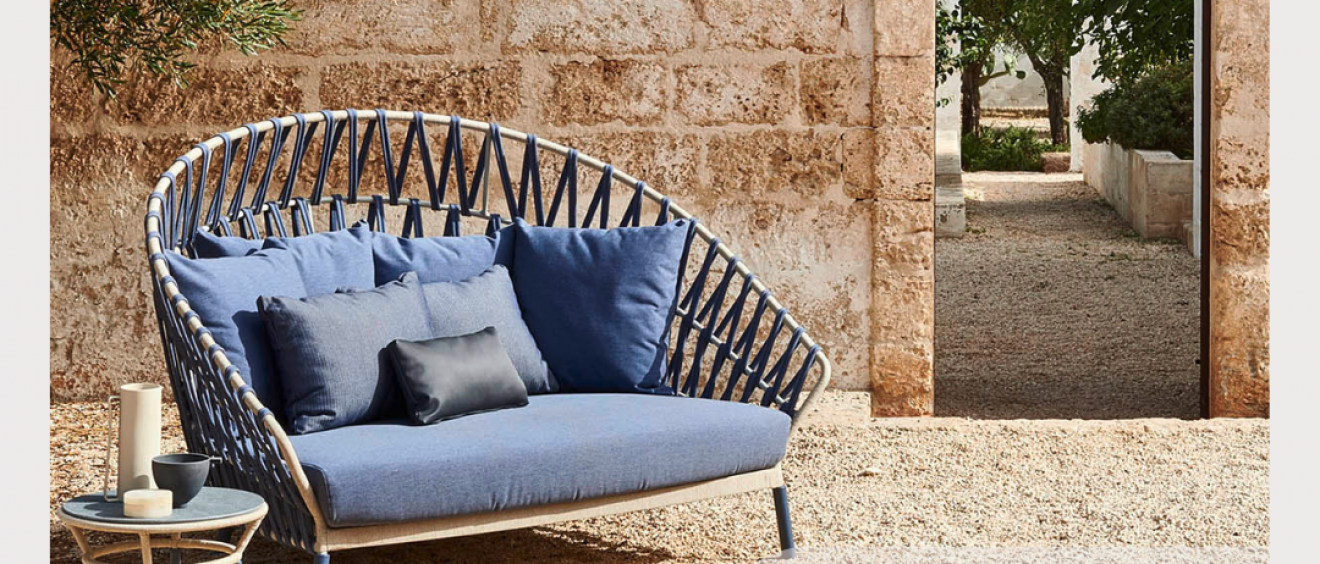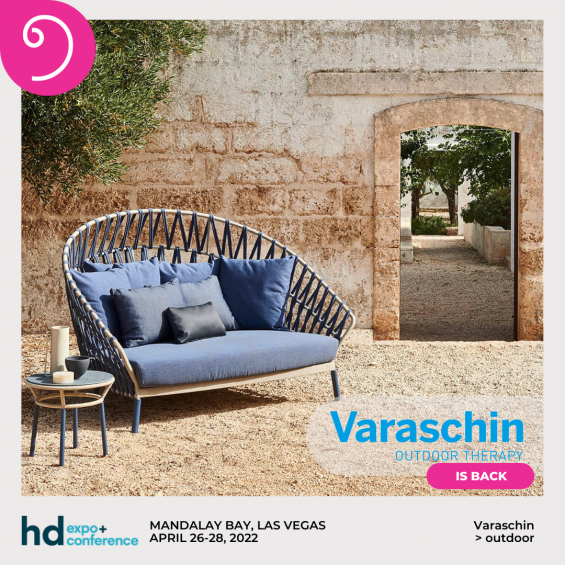 Varaschin is back at Hospitality Design Expo 2022.
Over 50 years of expertise and design devoted to the quality of outdoor relaxation, Varaschin has been making outdoor furniture elements and accessories since 1969. The result of its work can be admired and touched by hand in products that stand out both for the ability to perfectly combine form and function while maintaining comfort at the center of the design, and for the special attention that, from conception to construction, is reserved for attention to detail, the value of which reflects the uncompromising quality of the whole.
Varaschin is presented by TB Contract. With nearly 15 years of experience in the furniture industry throughout Europe and the US, TB Contract understands what it takes to create complex commercial projects, and the need for a trusted furniture partner who delivers to the clients' exacting specifications, solve problems before they arise, and exceed expectations with each and every product.
Varaschin iconic products is the Daybed Emma Cross, designed by Monica Armani
The idea of sofa meets the bed: and here is daybed. The one from the Emma Cross collection stands out for the shape, decidedly cocooning thanks to the backrest-armrests combination, distinguished by the weaving, handmade in acrylic fabric Band, on a powder-coated aluminium frame. The seat cushion with Dryfeel® foam padding, suitable for outdoor use, and the 7 back cushions are included.
Discover the whole range of Varaschin products at the upcoming HD Expo Las Vegas 2022, April 26 to 28.