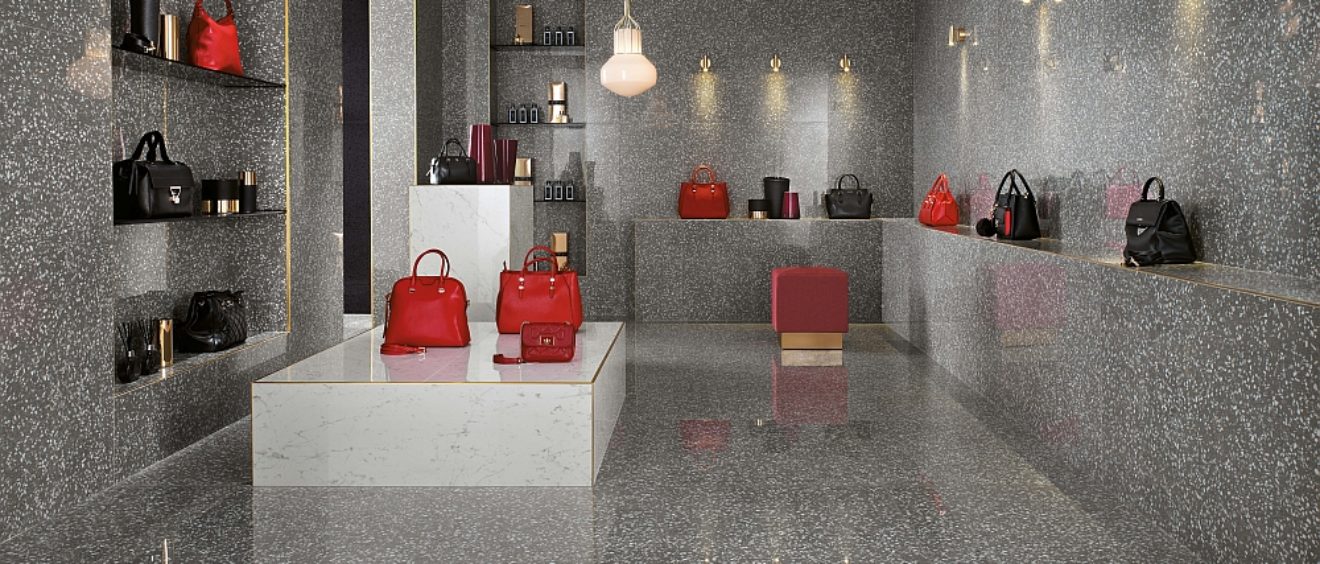 ATLAS CONCORDE
Marvel Gems collection
Marvel Gems by Atlas Concorde is a project of coordinated floor and wall tiles where Venetian Terrazzo is interpreted in a modern key, in line with Italian imagination and tradition. The collection includes ceramic tiles that combine the look of crushed marble with the superb quality of white body and ceramic tiles.
The beauty of the material that inspired this tile, featuring shards and fragments replicating marble, magnifies the impression of Atlas Concorde's Marvel project, for living and commercial spaces rich in appeal.
The brilliance of the tiles in porcelain and white body tiles reproduce the luminosity of the marble inspiring them. The theme of Venetian Terrazzo is interpreted in a current key for spaces where the marble-effect fragments emerge like gems strewn on a brilliant continuous surface.
FLOOR DESIGN: colored body porcelain tiles
The porcelain surfaces of Marvel Gems reflect the wide range of colors and sizes of the original Venetian floors. They are available in five colors and in numerous sizes. The variations in color within Atlas Concorde's Marvel project include various sub-base tonalities and marble-effect fragments, creating elegant combinations.
The porcelain tiles are highly polished for a mirrored effect, with a full-surface honed finish, to give the glossy look of the traditional material. Hard, compact and scratch-resistant, the surface maintains its beauty over the years, without the need to spend time or money on maintenance.
WALL DESIGN: white-body wall tiles
The white body tiles of Marvel Gems bring the elegance of Venetian Terrazzo to wall tiles, transferring the beauty to an enamel surface, brilliant and mirror-like. The color range is coordinated with the porcelain floor tiles plus an elegant blue.
Luminous walls with a mirrored effect combine the precious feel of marble with the benefits of ceramics: easy to lay, maintain, and clean.